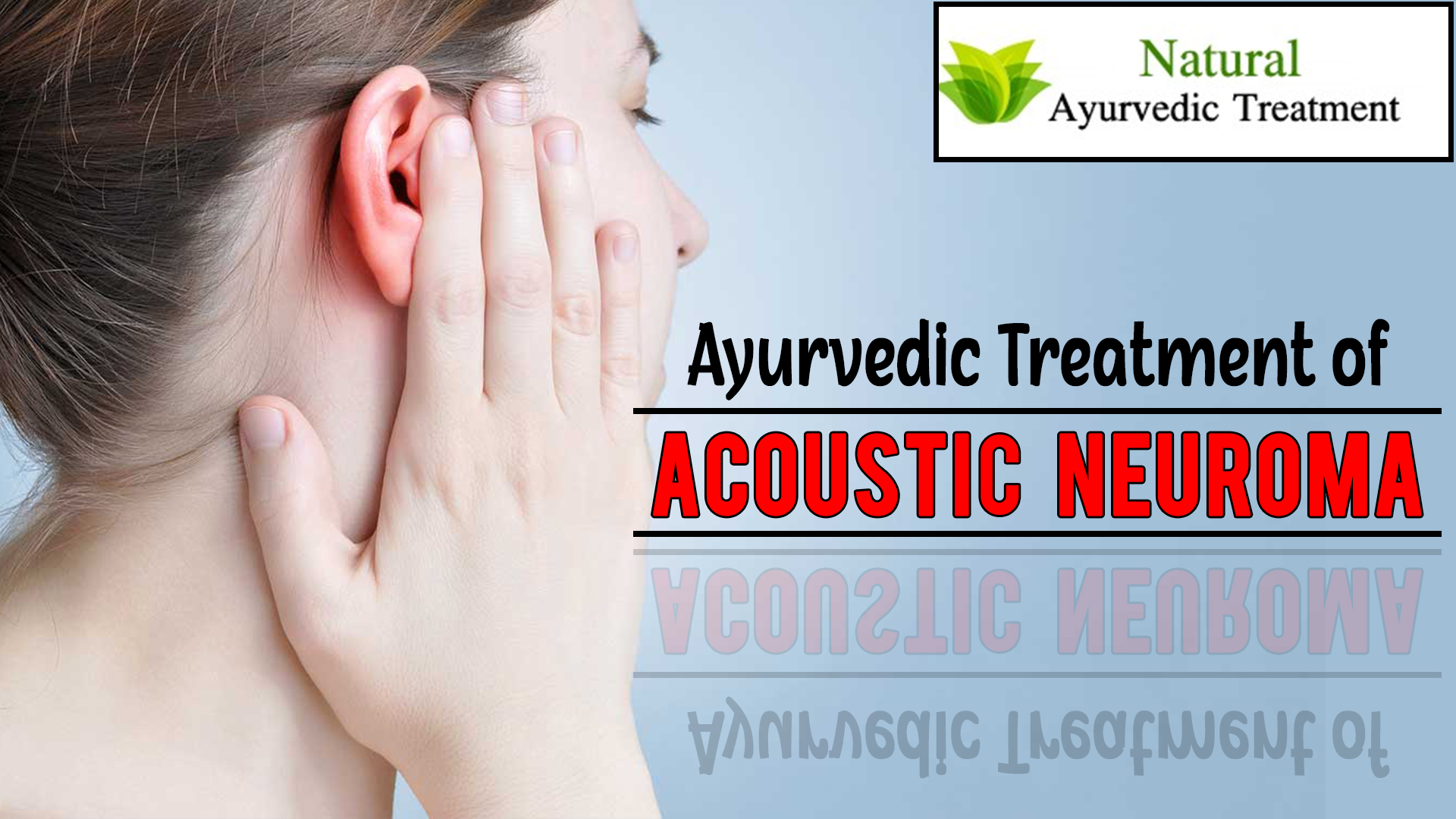 Ayurvedic Treatment for Acoustic Neuromas – Causes, Symptoms, Diagnosis & Herbal Remedies
What is ACOUSTIC NEUROMA?
Acoustic neuroma also called as vestibular schwannoma, is a non-cancerous and usually slow-growing tumor that develops on the main (vestibular) nerve leading from inner ear to brain.
Schwann cells covering the nerve which grows slow or not cause acoustic neuroma.
It is rare when it grows rapidly and become large enough or press against the brain and interfere with vital functions.
THERE ARE TWO TYPES OF ACOUSTIC NEUROMAS
1. Unilateral ACOUSTIC NEUROMAS
This type of acoustic neuromas affects only one ear.
It is the most common type of acoustic neuroma.
This tumor may develop at any age, but it may often occur between the ages of 30 and 60.
It is may be the result of nerve damage caused by environmental factors.
No environmental factor has been shown to cause acoustic neuromas.
2. BILATERAL ACOUSTIC NEUROMAS
This type of acoustic neuromas affects both ears and is inherited.
It is caused by the genetic problem which is called neurofibromatosis-2 (NF-2).
WHAT ARE THE SYMPTOMS OF ACOUSTIC NEUROMA
Problems with balance
Feeling of fullness in ears.
Balance problem or unsteadiness
Vertigo (feeling like the world is spinning)
Facial weakness
Taste changes
Headaches
Confusion
Difficulty in swallowing and hoarseness
Facial numbness and tingling, which may be constant or come and go.
Earache
Dizziness, loss of balance
Loss of sensation
Hearing loss
Vision issues
WHAT ARE THE CAUSES OF ACOUSTIC NEUROMA?
The exact cause of acoustic neuroma is unclear.
It is not genetic, but in a rare case, it caused by an inherited genetic disorder.
Constant or continuous exposure to loud noise (Such a music or work-related noise)
Neck or face radiation can lead to acoustic neuroma many years later
People who have a disease called neurofibromatosis type 2 (NF2) are at higher risk. NF2 can run in families.
DIAGNOSIS OF ACOUSTIC NEUROMA?
Electronystagmography-It is a test that evaluates balance detecting eye movements while stressing the balance in various ways.
During ENG the movements of the eyes are recorded with small electrodes placed on the skin around the eyes.
Alternatively, eye videos may be recorded by videonystagmography (VNG), using an infrared video camera mounted inside goggles that you wear.
Magnetic resonance imaging (MRI) – It is used to confirm the presence of neuroma because it can detect tumors as small as 1-2 mm in diameter.
Computed tomography (CT)
Auditory brainstem response (ABR) – In this test the hearing sounds are directed to one ear at a time.
The audiologist presents a range of sounds of various tones and asks the patient to indicate each time when the patient hears the sound .each tones is repeated at the faint levels to find out when the patient can barely hear.
AYURVEDIC TREATMENT OF ACOUSTIC NEUROMA
Ayurvedic treatment of acoustic neuroma includes
ASHWAGANDHA CAPSULES
CURCUMIN CAPSULES
KACHNAAR GUGGUL
TULSI CAPSULES
CHANDERPRABHA VATI
GUGGUL CAPSULES
PRODUCT DESCRIPTION
1. ASHWAGANDHA CAPSULES
It is obtained from the herb Withania somnifera.
It is useful in the treatment of fatigue, stress, and weakness.
It has natural rejuvenating properties that help in maintaining proper nourishment of the tissues.
Dosage-2 tablets twice daily with plain water after meals.
2. CURCUMIN CAPSULES
It is an active compound found in turmeric.
It is made up of standardized extract of curcumin.
It is beneficial to treat various types of cancers and its regular use protects the body from damaged caused by the free radicals.
It helps to maintain the healthy immune system.
It supports a healthy structure of cells and tissues.
Dosage-2 capsules twice daily with plain water after meals.
3. KACHNAAR GUGGUL
Kachnaar guggul is a natural herb which keeps the cells and tissue healthy.
It is prepared by using herbs such as Kachnaar bark (Bauhinea variegate), triphala (Terminalia chebula, Terminalia bellerica, and Emblica officinalis), Trikatu (Zingiber officinale, Solanum nigrum, and Piper longum), Varun bark (Crataeva naruvala), Elachi (Elettaria cardamom), Dalchini (Cinnamomum zeylanica), Tejpatra (Cinnamomum zeylanica leaves) and guggul (Commiphora mukul).
The main ingredients are kachnaar bark and Guggul.
Dosage-2 tablets three times daily with plain water after meals.
4. CHANDERPRABHA VATI
It consist of Shilajit (Asphaltum), Guggul (Commiphora mukul), Sugar, Karpoor (Cinnamomum camphora), Vacha (Acorus calamus), Mustak (Cyprus rotundus), Haridra (Cucurma longa), Amalaki (Emblica officinalis), Chavya (Piper chaba), Vidanga (Embelia ribes), Guduchi (Tinospora cordifolia), Ginger (Zingiber officinalis), Maricha (Piper nigrum), Pippali (Piper longum), sodium carbonate, Rock salt, Potassium carbonate, Sodium sulphate, Black salt, Danti (Baliospermum montanum), Dalchini (Cinnamomum zeylanicum), Tejpatta(Cinnamomum tamala), Ela (Elettaria cardamomum)
Out of these all herbs Shilajit (Asphaltum) and Guggul (Commiphora mukul) are two main ingredients.
It is useful in the treatment of cancer, tumor, and fibroids.
It acts as a catalyst for other herbal ingredients to deliver swift therapeutic action.
Dosage– 2 tablets thrice daily with plain water after meals.
5. TULSI CAPSULES
It is a natural supplement that is great for supporting overall health.
It supports the healthy functioning of the immune system.
It is prepared by using a standardized extract of Tulsi (Ocimum sanctum) in it.
Dosage-2 capsules twice daily with plain water after meals.
6. GUGGUL CAPSULES
It is an herbal supplement which the healthy cells growth.
It keeps the structure of cells and tissues healthy.
Guggul is a gum resin obtained from the tree Commiphora mukul.
It is rich in guggulsterone.
It has anti-inflammatory, anti-oxidant and rejuvenating properties.
Dosage-2 capsules twice daily with plain water after meals.
The following two tabs change content below.
Dr. Vikram Chauhan
(MD-Ayurvedic Medicine) is an expert Ayurveda consultant in Chandigarh (India). He has vast experience of herbs and their applied uses. He has successfully treated numerous patients suffering from various ailments, throughout the world. He is CEO and Founder of Krishna Herbal Company and Planet Ayurveda in Chandigarh, India. He researched age old formulas from ancient Ayurvedic text books to restore health and save human beings from the worst side-effects of chemical-based treatments.
Latest posts by Dr. Vikram Chauhan (see all)