AYURVEDIC TREATMENT FOR CHRONIC FATIGUE SYNDROME WITH HERBAL REMEDIES
ABSTRACT
Myalgic encephalomyelitis, another name for the complex multisystem condition known as chronic fatigue syndrome, is frequently accompanied by symptoms such as excessive exhaustion, cognitive decline, sleep issues, autonomic dysfunction, and post-exertional malaise. The severity of these symptoms may severely limit a patient's ability to do their daily duties. Because of this, excessive morbidity and its negative impact on quality of life must be avoided through early diagnosis and fast treatment. The article focused on the disease, its aetiology, and management options. It covers both aspects of the management of the disease.
INTROCUCTION
It is also known as myalgic encephalomyelitis. It is a complicated multisystem disease that severely limits daily activities and is frequently marked by extreme exhaustion, cognitive dysfunction, sleep issues, autonomic dysfunction, and post-exertional malaise. Due to limited medical education on the subject, provider bias, and ambiguity around the diagnosis and treatment of the disease, outcomes worsen as the ailment goes undiscovered for years. In addition to fatigue, CFS often includes cognitive dysfunction and impairment of daily functioning that lasts for six months or more. It is not a psychological problem, but a medical condition. Orthostatic intolerance, post-exercise malaise (PEM), exhaustion, and diarrhea are just a few of the complicated symptoms that CFS patients occasionally report when they go to the emergency room.
CAUSES
The cause is generally unknown but some of the factors that are responsible for the syndrome are as follows:
Weak immune system
Hormonal imbalances
Infections
Viruses
Stress
RISK FACTORS
Environmental factors
Some kind of allergies
Physical Stress etc
SYMPTOMS
Symptoms may vary from patient to patient
The main symptom is interference in daily activities for at least 6 months.
Physical and mental fatigue.
Experiencing sleepiness the next day due to persistent insomnia or another sleep disorder.
Loss of memory
Reduced concentration
Some physical symptoms like headaches, body pain, muscle pain, sore throats, etc.
MANAGEMENT
Management of CFS is based on the symptoms.
Some patients get relief after taking vitamin supplements because they have some vitamin deficiencies as well.
Regular yoga and acupuncture therapies are prescribed.
Maximizing quality of life by planning rest and activity periods and utilizing calendars and journals to prevent memory lapses
Understanding which relaxation techniques work best for individuals, eating a healthy, balanced diet, and if testing finds a shortfall, taking nutritional supplements.
LIFESTYLE MODIFICATIONS
Some lifestyle changes can help in reducing the symptoms of CFS
Less intake of caffeine
Avoid napping in the day
Creating a good sleep routine
AYURVEDIC VIEW
It is correlated to Ras (plasma) kshaya and Oja (immunity) kshaya. The tissues (dhatus) contain a fraction of the biodigestive power (kayagni). Their vitiation in terms of quantity, quality, or function results in dhatus vitiation. As a result, the affected dhatu is diminished or made worse. Whereas, Ojas is the center of power and the essence of saptadhatu. The hridya, along with blood vessels connected to it, serves as the seat of the ojovaha strotas. Ojas is transported throughout the body through ten veins that are connected to the heart. A person will pass away if the amount of ashta bindu ojas drops. However, if ardh anjali ojas weakens or becomes vitiated, three abnormalities—ojah kshaya, ojo vyapat, and ojovisramsa—appear. However, Ardh Anjali Ojoksaya can potentially cause death.
SOME COMMON NIDAN/CAUSES OF KSHAYA
Charaka sutra 17/76-77
Excessive exercises
Fasting
Worry
Intake of dry food
Less intake of food
Excessive sitting in the sunlight
Fear
Alcoholism
Night wakefulness etc
SYMPTOMS OF RAS KSHAYA
Charaka sutra 17/64
With the decrease in the Rasa Dhatu, even with a little hard work, the heart of the patient begins to tremble, light or noise cannot be tolerated, the heartbeat increases, and colic appears.
SYMPTOMS OF OJO KSHAYA
Charaka sutra 17/73
With the decrease in the oja, the patient remains afraid, becomes weak, and always remains worried, and in meditation, the senses are unable to do their work. The complexion of the body becomes dirty, the mind remains sad, and the body becomes dry and weak.
MANAGEMENT OF RASA KSHAYA
Langhan (10 types of lightning therapy):
Vamana (induced vomiting)
Virechan (induced purgations)
Niruh basti (medicated enema)
Nasya (medicated nasal drops)
Pipasa (Thirst)
Vayusewan (exposure to breeze)
Atapsewan (exposure to sunlight)
Paachan (Medications used to remove toxins from the body)
Upwas (fasting)
Vyayam (Exercise)
MANAGEMENT OF OJA KSHAYA
Avoid such things that lead to unhappiness, stress, worries, etc. Medications and foods that are heart-friendly—the herbs that keep stotras in excellent health—should be taken on a daily basis.
HERBAL REMEDIES FOR CHRONIC FATIGUE SYNDROME BY PLANET AYURVEDA
An herbal pharmaceutical company called Planet Ayurveda specializes in the manufacturing and formulation of several herbal treatments that are used to treat a variety of ailments. There are no chemicals or preservatives in the medications made here. Here, the quality of the medications is always inspected by the doctors, and patient health is never jeopardised. While making the drugs, hygiene is adequately maintained. Here is a list of some medicines provided by Planet Ayurveda for Chronic Fatigue Syndrome.
ENERGO PLAN SYRUP
ASHWAGANDHAGHAN VATI
DIGESTION SUPPORT
NOURISH-MAXX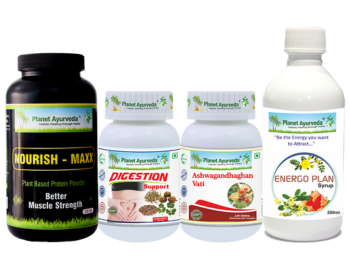 PRODUCT DESCRIPTION
1. ENERGO PLAN SYRUP
This is an amazing formulation by Planet Ayurveda that includes Jeevanti (Leptadenia reticulata), Amalaki (Emblica officinalis), Shatavari (Asparagus racemosus), and many others. Jeevanti in the syrup is used for diseases like weakness, burning sensations, night blindness, etc. Amalaki in the product is also useful for fatigue, enhancing mental performance, easing depression, and other mental weaknesses. It supports the body's health response as well. The Energo Plan syrup maintains the overall health of the body.
Dosage : 1-2 teaspoon twice a day
2. ASHWAGANDHAGHAN VATI
This is the preparation by Planet Ayurveda, which has only Ashwagandha as the main ingredient. It is used to reduce fatigue and weakness and increase the vitality of the body. It is also useful in regulating the adrenal gland, which reduces the stress level in the body. It is good for heart health, manages stress, and maintains overall health. Also supports the immune system.
Dosage: 1-2 tablets twice daily with lukewarm water.
3. DIGESTION SUPPORT
This is an outstanding formulation of Planet Ayurveda, which includes ingredients like Triphala (3 dried fruits), Sounf (Foeniculum vulgare) and some others. These capsules are used to reduce fatigue and stress. It also fights lethargy. Triphala promotes the long life and overall health of the individual. These capsules enhance the digestive process and act as a digestive tonic that is beneficial to the digestive organs.
Dosage: 1-2 Capsules twice daily.
4. NOURISH MAXX POWDER
This is a plant-based protein powder formulated by Planet Ayurveda with ingredients like Shatavari (Asparagus racemosus), Safed Musli (Chlorophytum borivilianum), Ashwagandha (Withania somnifera), and Gokshura (Tribulus terrestris). This powder is useful for weakness, fatigue, and mental-related problems. It also maintains the tridoshas of the body.
Dosage: 1 teaspoonful twice Daily with Normal water.
CONCLUSION
Myalgic encephalomyelitis is a complicated multisystem disease that severely limits daily activities and is frequently marked by extreme exhaustion, cognitive dysfunction, sleep issues, autonomic dysfunction, and post-exertional malaise. The article focused on the disease, its aetiology, and management options. It covers both aspects of the management of the disease. For the management of CFS, Planet Ayurveda provides different medications with their doses.
The following two tabs change content below.
Dr. Vikram Chauhan (MD - Ayurveda) is the CEO and Founder of Planet Ayurveda Pvt. Ltd. He is Author of the Book "Ayurveda – God's Manual For Healing". He is an Ayurveda Expert Serving People worldwide through all the Possible Mediums, Operating from Main Branch in Mohali, India. With his Vast Experience in Herbs and their Applied Uses, he is successfully treating Numerous Patients suffering from Various Ailments with the help of Purest Herbal Supplements, Diet, and Lifestyle, according to the Principles of Ayurveda. For More Details, visit
www.PlanetAyurveda.com
.
Latest posts by Dr. Vikram Chauhan (see all)